Davenport Outdoor Signs
View Outdoor Sign Gallery
Outdoor signs are the primary signage products that attract customers to any business.
With Lighthouse Signs Services, Inc.'s highly attractive and durable Davenport, FL outdoor signs, your business can experience a great boost in its customer traffic and, eventually, its bottom line.
Our company can provide every signage product and service that you need, from pylon signs, monument signs, and channel letters, to signage installation, design, finishing, and manufacturing. Our main goal is not providing generic signs but to create signs that truly function as effective brand-establishing, eye-catching visual tools.
Our company is well-versed in working with existing brand guidelines. We incorporate your company identity in all the signage that we will create to establish your branding in your community and impress all your clients. If you want signage products that work for your benefit, Lighthouse Signs Services, Inc.'s Davenport outdoor signs are the ones you need.
Call Lighthouse Signs Services, Inc. today at (863) 400-3660 for your Free Consultation with an Davenport Outdoor Sign Expert!
Storefront & Building Signs

One of the most important signs that any business must prioritize is the storefront sign. This sign lets your customers know who you are, what you do, and the quality of your work.
You need to consider factors like budget, location, branding, and customer traffic to know which storefront sign is the best for your business.
Our company has a wide selection of storefront signs to choose from. Just tell us your needs, ideas, and other relevant information, and we'll help you figure out the best outdoor sign types for your company.
We know that no two businesses are the same. So we want to be able to create tailor-fit signs for each of our clients.
Channel Letters & Dimensional Letters
To start the list of outdoor signs, we have perhaps the most popular type in the industry: channel letters and dimensional letters. These are three-dimensional signs—extremely versatile in use and can be highly customized to fit the exact needs of any business type.
Channel letters are a set of hollow individual units of text, symbols, or images, while dimensional letters are solid blocks. You can have your business logo and name imprinted on them for a highly stylish and professional look. We can give you full control over the design of your channel or dimensional letters, from the colors, shapes, and sizes to the thickness and additional elements, like electronic lighting.
No matter what business you run, the flexibility and customizability of channel letters and dimensional letters won't fail to achieve the look that you desire for your business.
Lighted Signs
If you run a business that works even during the night, then lighted signs are the visibility tools you need.
Lighthouse Signs Services, Inc. is fully equipped with a complete team of electricians and signage specialists to make sure you get safe and effective lighted signs. We have all the options you want, from illuminated channel letters and backlit dimensional letters to high-tech digital message boards that can showcase easily edited information.
We also boast of our use of LED technology, which is a powerful yet environmentally-friendly alternative to the classic neon sign look without the high costs, expensive energy bills, and high maintenance demands.
Lighted signs grab the attention of the public even during the night. They are perfect for businesses like clubs, bars, gas stations, convenience stores, theatres, restaurants, and most retail businesses.
Custom Sign Panels
Solid panels are also among the most common and versatile storefront signs out there. You can install any text, symbol, or image you want on a custom panel sign placed on your building's facade. You can get a custom panel sign in virtually any style you want, from text only to artistic, from full-color to monochromatic, from small to large. What's great about them is that they are one of the least expensive options for storefront signs, yet they still pull off a great visual effect.
Sign panels are made of cut vinyl that is either attached to a metal plate or installed with a lightbox that has an acrylic panel and translucent printing. Just tell us your budget, desired design options, branding, and other relevant information you think might be needed, and we can recommend you the best ways to customize and install this sign type to your building.
Sign panels are a favorite of businesses like manufacturers, automotive services, and corporate offices.
Canopy & Awning Signs
Canopy signs are unique. With their special properties, they project a look and vibe that only they can provide. They offer not just aesthetics but also a level of physical protection on a building's outer front.
Canopy and awning signs are a structure characterized by a stretched material overlooking the front area of a building. The by-product of this design is a share on the front part of the place that creates a good site for activities like dining and products like food stalls. The canvas can be imprinted with virtually any text and image you want.
Because of the "boutique" vibe that they give off, canopy signs are popular among businesses like food stalls, fruit shops, salons, jewelry stores, galleries, hotels, and specialty shops.
Monument Signs
Monument signs are highly durable and impressive signs that are used mostly for institutions and corporate businesses. They are large structures standardly made of strong materials like stone, brick, and metal. They show letters and images by etching or fitting graphics materials that display the relevant information about a business.
To add more amazing options, we can also install digital message boards and lighting on your monument sign. From marble signs to sandblasted signs, we have a long list of options to choose from, allowing you to have a monument sign that truly shows your unique company personality.
Common users of monument signs include schools, private clubs, resorts, government buildings, corporate offices, and manufacturing facilities.
Pole Signs & Pylon Signs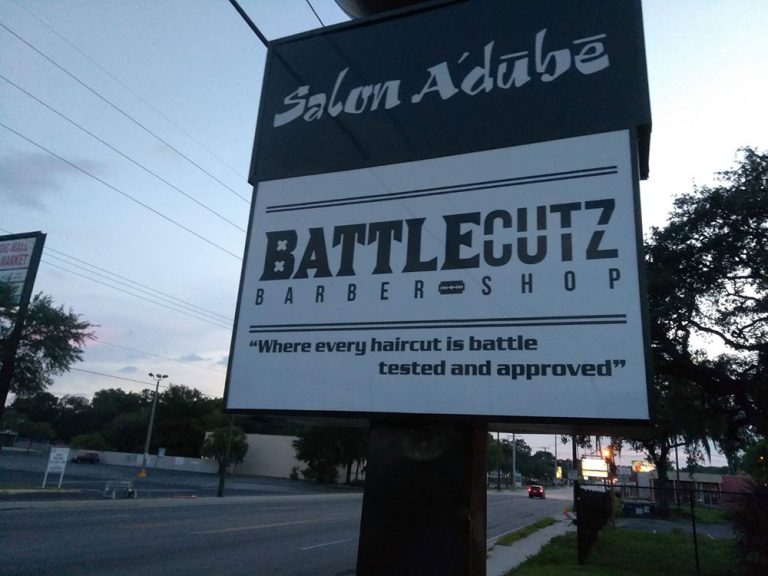 If you run a business that needs extra vertical visibility, our towering pole signs and pylon signs will do the trick. With the right design and positioning, they can make you be seen even from long distances.
Pole signs and pylon signs are designed to be tall, occupying the space above your business like no other sign can do. Businesses located in areas like major roadways and interstates benefit greatly from this sign type. Get them in a wide variety of designs, heights, shapes, and colors.
If you run a business like restaurants, shopping centers, convenience stores, gas stations, and supermarkets, a pole sign may be exactly what you need to keep your business functionally visible.
Complete Exterior Signage Provider
Every business and brand can utilize outdoor signage to increase both their visibility and customer perception.
Whether you are looking for promotional signage to highlight your products or services or brand identification signage to let customers know you exist, Lighthouse Signs Services, Inc. will develop the perfect custom signs to support your goals.
Lighthouse Signs Services, Inc. also offers indoor signs that can be cohesively matched with your outdoor signs!
Here's a short list of our Davenport outdoor signs options:
If you can't see the sign that you want, don't worry. We have more products in our facility. We can also create fully customized signs that you won't see anywhere else, enabling you to have truly unique signage products designed specifically for your company.
Full-Service Exterior Sign Company
As a top provider of Davenport outdoor signs, Lighthouse Signs Services, Inc. has all the equipment and expertise needed in providing all the services related to signage production. This includes consultations, customer support, signage designing, project planning, manufacturing, installation, repair, and maintenance.
We have an expert team of graphic designers to provide all the design services you need. If you already have an existing list of branding guidelines, we can incorporate these designs into your signs. Otherwise, our experts can help you brainstorm a coherent and effective visual identity for your business.
We also have our very own manufacturing facilities and equipment, so you can be assured that we have total and strong control over the quality of our outputs. We guarantee that each product that we produce has been thoroughly quality-controlled. All your needs can be taken care of by Lighthouse Signs Services, Inc., even in helping you get the right legal permits to use these signage products.
Finally, our company also offers professional signage installation services. We make sure that your Davenport outdoor signs will be perfectly installed with no room for mistakes, allowing your signage products to maximize their lifespans. We also make sure that we cause you no inconvenience through a fast and smooth installation process without leaving any mess or debris.

Free Outdoor Sign Consultation
For high-quality Davenport outdoor signs, Lighthouse Signs Services, Inc. is your best option. We make them tough and effective in catching the attention of your potential customers.
Your company brand will be incorporated into these signs perfectly. Just tell us what you need, and we'll make sure that your signs perform their proper functions and satisfy your business goals.
Call Lighthouse Signs Services, Inc. today at (863) 400-3660 for your Free Consultation with an Davenport Outdoor Sign Specialist!